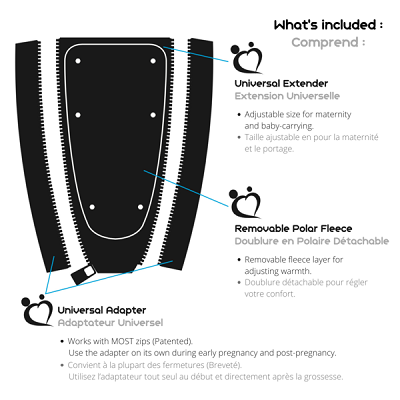 The Universal Jacket Extender is a softshell extender that expands the front of your own jacket during pregnancy. No need to buy a maternity jacket or borrow a XXL. Feel good in your own jacket!
While baby-carrying with a soft-structured front-carrier, wrap or sling, the extender expands your jacket around you and your baby, for close comfort and warmth while outdoors.
What's included:
Universal Extender (with removable fleece panel)
Universal Adapter (patented).
 
The Universal Adapter allows you to attach your Extender to MOST jackets. (See Warning below for restrictions). The unique design slides over and secures onto most brands / sizes of zip allowing you to switch between jackets with ease. For different length jackets, you simply need to reposition it in order to get your ideal coverage or fold the top down on shorter jackets. The Universal Adapter can also be used on its own during early pregnancy and post-partum where just a few extra inches are needed.
Wind, rain and snow resistant, ready for fall, winter and spring.
Specifications
Warning: Not suitable for Metaluxe zips. See photo here.
Designed to work with MOST zips, brands and types of jackets (rain, down, parka, long and short jackets). Watch a DETAILED DEMO here.
Made from 3-layer softshell with a micro-fleece lining (98% polyester, 2% Spandex). Includes interior membrane (waterproof / breathable) and outer durable water-repellency coating (DWR).
Long pull-tabs and high quality zips make zipping easier.
Plastic snaps and elastic strip to control the width for a better fit. Snaps also help with shortening the top on short jackets and while baby-carrying.
Snap-on heavy fleece panel for an extra layer of warmth (included). Simply remove for milder days.
Universal Adapter includes stop-system to make sure it stays in place on your zip and prevent any sliding.
27" (70cm) long, one-size fits most. 12" (30cm) wide at it's widest and tapering down to 7" (17cm) at the base.
Wash Instructions: Machine wash cold with mild detergent. Hang to dry.
Designed and Made in Montreal, Canada. 
Safety
Your baby's safety is your responsibility. Always monitor your baby or child to ensure adequate ventilation and warmth. The Universal Jacket Extender is NOT a baby-carrier. Always follow the safety instructions of your baby-carrier.